APG Three Bolts Aluminum Parallel Groove PG Clamp Conduct Size AL 16-70mm2, 16-150mm2, 25-240mm2,35-300mm2
Certification

CE

Model Number

APG-C

Packaging Details

50pcs/ctn , 50x21x21cm , 15kgs

Supply Ability

100000PCS/Month

Material

Aluminum Alloy

Bolt

Three Bolts
Contact Now
APG Three Bolts Aluminum Parallel Groove PG Clamp Conduct Size AL 16-70mm2, 16-150mm2, 25-240mm2,35-300mm2
Application:
The APG parallel groove clamps are designed to connect two aluminium conductors.
Advantages:
Advanced forging technology enhances the mechanical strength of the clamp.
Special designed screw hole and arc shape of the body allow clamp to adjusts to different cable size on each side.
Clamp body is made of aluminium with excellent electrical conductivity.
Gross-grooved clamp channels enhance both mechanical pullout strength and electrical conductivity.
Materials of bolt and nut are optional depend on customer request. Options including Hot-dip galvanized steel and Stainless steel
Pressure pad is applied to achieve uniform pressure along the clamp.
APG-C Series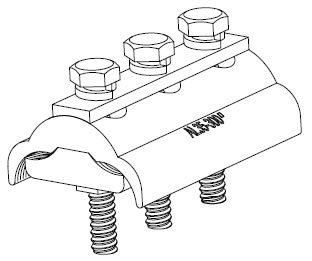 | | | |
| --- | --- | --- |
| Item No. | Size(mm²) | Bolt |
| APG-C1 | AL16-70 | Tri-bolt |
| APG-C2 | AL16-150 | Tri-bolt |
| APG-C3 | AL25-240 | Tri-bolt |
| APG-C4 | AL35-300 | Tri-bolt |
Feedback